I'm just sitting on a red sofa at The Southern. It's a little before 8pm, when the doors are supposed to open, and I hear this voice say, "Do you mind if I sit here?" I look up to see a guy – maybe he's 14 or so – gesturing to the other end of the couch. I nod, and he sits, opens a book, and starts to read.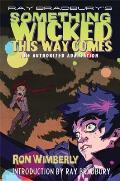 Before I go on with the story, I should say that at this point I am a little dumbfounded for a couple of reasons. First, a teenager asked politely for something; I was a teenager once, so I know this is rare. Secondly, he was reading. When I first saw him take something out as he sat, I expected to see a phone or or a hand-held game console, but not, he had a book – Ray Bradbury's Something Wicked This Way Comes. A polite teenager reading – I feel like I've just been witness to a miracle.
As we both sit there and read – I'm making my way through Isaac Marion's Warm Bodies (and don't think it's lost on me that the teenager is reading a complex piece of science fiction, and I'm reading a zombie book) – we begin to chat. Actually, I should be more specific – he begins to talk to me. (A teenager initiating conversation – will the surprises never end?) "What are you reading?"
Over the next half-hour of so, we chat about our books, about our shared love of reading. We both agree with want to read the Game of Thrones series and decry the ending of Stephen King's It as quite disappointing. We talk music – he loves Tom Waits, and I admit I need to know his music better. We even lament the sad state of reading among America's teen population, with him entirely aware of the rarity he is.
Eventually, we both wander into the show, but not before I ask his name and give him mine. Kirby – what a great name, and I tell him so. "No one ever forgets it," he says. I think, Nope, Kirby, no one forgets you.
The concert was great – Peyton Tochterman rocked the house – but it was Kirby who left a real impression – all poise and thoughtfulness. Thank you, Kirby, for a great conversation. You made my night.
In Kirby's honor, I am giving away two books – Out of This World by Graham Swift and The Crystal Frontier by Carlos Fuentes. If you'd like to win one of these titles, please leave a comment below and tell us what your favorite books were as a teen, or if you had none of those, tell us what books you would recommend for today's teens to read? One entry per comment, tweet, FB share, or blog link. (Just let me know those things in your comment, please.) The winner will be announced here next Saturday, Sept 17th.