It's like reading my own thoughts before I can even form them.
"One of the ideas I've clung to most of my life is that if I just try hard enough it will work out."
"I am still looking for the alternative outcome to this part of the story – as if I had pushed harder at one of these moments, had I been more aware, all would have changed."
Two nights ago, I picked up Meghan O'Rourke's memoir about the death of her mother – The Long Goodbye – and I started reading. Again. I had tried months ago only to find myself stopped every page by sobs and the wrenching revelation of the reality of my own mother's death.
Now, I think I am ready. As ready as one is to read her own grief mirrored – if slightly from a different angle.
This is what I read for most often – to find myself in the pages. Perhaps this is selfish, perhaps naive, perhaps narrow-minded. But it is the truth.
This is also why I write – to give someone herself, to help someone see himself in my words. Perhaps this, too, is selfish and naive. But it is also the truth.
So today, I thank Meghan O'Rourke for making me bear my own pain anew. I thank her for helping me grieve. I thank her for putting my own heart onto the page so that I can see it.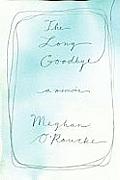 – The Long Goodbye by Meghan O'Rourke
Sharry Miller is the winner of The Guernsey Literary and Potato Peel Pie Society. On it's way, Sharry.