Sometimes the right book comes at you at just the right moment. My right book and right moment occurred two weeks ago as I was just outside of Acadia National Park in Maine. My dad's Ford Ranger pick-up had hauled me up the East Coast with the words of Elizabeth Peters (who doesn't love a good Egyptian mystery on a road trip?) pouring out the speakers. But now, I was in need of more listening material, so I slipped the first disc of The Guernsey Literary and Potato Peel Pie Society into the dash. I was hooked immediately.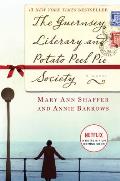 The basic premise of the book is that Juliet Ashton has written a series of entertaining and insightful columns about WW II and now, just after the war's end, she receives a letter from a man named Dawsey, who lives on the island of Guernsey. So she comes to know about a society of readers and friends that began during the German occupation of the island. Through the course of the book, Juliet gets to know Dawsey and his friends and finds, through them, the subject of her next novel.
If I was to sum up three things I loved about this book I would say, I loved its form, its voice, and its subject. First, the form – this is an epistolary novel, a novel told in letters. This form allows the writers – Mary Ann Shaffer and Annie Barrows – to give a variety of points of view without the cumbersomeness of an omniscient narrator. Plus, the letters provide glimpses into character that might be mediated away through a single narrator. In particular, I love Adelaide Addison, the rather "upright" lady from Guernsey because her letters show how awful she is without anyone have to form that judgment on her. This form also makes me wish for a time when we all wrote letters by hand again. I think perhaps I will take this up.
Secondly, I love the voices of the characters. Because I can hear them each distinctly in letters, I find that I get a beautiful affection for each of them. I get to know them through their language – a writer's favorite tool – and the subjects about which they speak. It's almost like meeting the characters in person.
Finally, I really loved the subject matter of the German occupation on Guernsey. I never knew this aspect of World War II history, and I find that sad. While this topic could have become heavy or pedantic, Shaffer and Barrows manage it deftly by placing it in the language of imaginary folks who lived through it. This novel makes me want to research the occupation more, particularly the Todt workers who suffered so miserably.
All in all, I really adored this book. I highly recommend it to anyone interested in studying characterization in writing, the epistolary form, the occupation of the Channel Islands, or the way that humans come to love and understand one another.
I'm giving away my print copy of this book to an individual who comments below and tells me why you would like to read the book. Or if you've read the book already, comment and tell me what you thought of it, and I'll gladly send my copy to someone you'd like to have receive it. On Wednesday, August 31, I will randomly select a winner to receive the book. (You can get an extra entry for each way you share this giveaway – your own blog, Twitter, Facebook, Google +, etc. Just let me know in the comments.) Thanks for entering.
For more reviews on The Guernsey Literary and Potato Peel Society by Mary Ann Shaffer and Annie Barrows, visit Powell's page for the novel.