Four half-filled shelves. That's all I had to choose from in our local public library's holding of young adult audio books. I was craving something magical, something plot-driven, something easy for my jaunts around the county, and so here I was trying to choose from, sadly, slim pickings.
I grabbed the fattest case on the shelf (I like epic tomes) and was pleased to see the sketched profile of a young woman on the cover. She looked determined and majestic in the way all heroines should. So I took it to the counter – who says you shouldn't choose a book by its cover?
When I began listening to The Naming by Allison Croggon, I was enwrapped immediately. Here was a story that involved a strong young woman, a man who was invisible to everyone but her, and a journey. Five miles down the road, and I was already sad to have to leave the car.
The plot of The Naming is your basic fantasy plot that weaves together physical journey with a journey of identity. Maerad is a young woman who does not yet know who she truly is – a bard (i.e. magical being) of great power. She meets her guide, Cadvan, at a moment when they are both weak, and it is only together that they can survive. There are powers of Light and Dark, and there are talking spirits and evil undead. As with all these stories, it is clear that the Light will win, but Croggon's writing is so intricate and dramatic that sometimes my faith in this outcome wavered – and so I was even more engrossed.
If you like Tolkien or Lewis or any of the other epic fantasy writers, you'll love this book. It's a great fit for teenagers and adults, and while at moments – as in Tolkien – the journey seems tedious (as it must to be fair to the story), the action is far worth the wandering.
This is "The First Book of Pellinor", and there are three more titles to follow. Now, if I can just get the local library to add the audio versions to their shelves.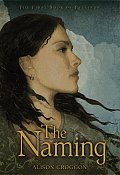 The Naming by Allison Croggon