Despite my decision to leave full-time teaching last spring, and despite my concious choice to try to live life in the moment that exists now, and despite my efforts to pare down life and focus on simplicity, I am still far too busy for my own good. As I've been pondering this fact in my car rides all over Maryland, D.C. and Virginia, I have come to realize that part of my struggle is that I'm defining what it means to be "busy" by what society uses to define that term – mainly work. If I am working too much, then I am busy, but somehow all the other things I do – moving, spending time with friends, housework, the normal maintenance of a life – seem to fall in another category that I don't think should make me feel busy. So when you couple "the other stuff" with a sense of work hours that far exceeds what, I believe, most people should work, I feel absolutely stifled by what I have to do.
I am a person who needs to be still, quiet, daydreaming every day for at least an hour. I need at least one hour a day when I am not engaging my mind with anything – not with driving or grading or even reading. Maybe I can do yoga, but even that activity is too much on some days. The best thing for me is to sometimes sit and stare out the window for an hour. I can feel my shoulders drop, my chest open, and my thoughts slow. It's great.
I am also a person who needs creativity every day. I need to read something that is well-written, listen to some great music, and write something every single day of my life. For a year in college, I would read a chapter of a novel every night before I went to bed. I just sat on the couch while my roommates slept or finished up assignments and read something completely pleasurable. It was really great, just time with Margaret Atwood or whoever else might draw my attention. Each night, I went to sleep feeling rested and easy.
I am also a person who needs to not be rushing from thing to thing all the time. I need to look ahead to my day and see spaces of openness, areas of lightness where I can do something unexpected – like stop and have a pumpkin latte at a new coffee shop on the way home, or like make a loaf of bread because I feel like it. I need enough give in my schedule to feel like I'm really living and not just moving between activities.
Then, there are things that I would like to do more often – take strolls in the autumn air, play with my cats on the staircase, talk to friends on the phone, write letters with a pen and paper, lay on the floor and daydream, make cookies, try apple butter again, create a calendar with all my friends' kids' birthdays, etc. There are many things I would like to do, things that would make me feel more myself.
So here I am, again today, making a commitment to these things with you as my witnesses. I am slowing down again. I moved from fifth gear to fourth when I quit my job, but now I'm trying to drop down into second so that I can move around the curves of the mountains with time to glimpse the vistas and pull into the overlooks if I want.
Here are five things I am doing.
1. I will check email twice a day at most. Once in the morning and once, if there is a convenient moment, later in the day. I will check Facebook only once.
2. I will set aside one hour a day, even if it is the hour before bed, where I do something I want to do – yoga, reading, journaling, day dreaming – by myself with no expectations for how much I will do or finish.
3. I will work less than eight hours every day next semester when I have a chance to set my schedule again. These will be the eight hours or less that I commit to my work that pays, not my real work of living or being an artist.
4. I will set a schedule that leaves me at least an hour between jobs so that I can breath and take moments to reflect rather than rush from thing to thing.
5. I will read more.
6. I will write more.
7. I will only watch something on a screen when I really want to see it and will not default to that screen simply because I am home without somewhere I have to be. I will use that time to read or sew or listen to music instead.
8. I will cook more often.
9. I will sit with God more regularly.
10. I will slow down and be in the moment.
I pray that you will each find the right pace for your life, that you will know how to slow down if you wish, that you will find what gives you joy, and that you will honor those around you who are slowing down, too. If you'd like to read some more about a simpler pace of life, check out this great post from Zen Habits.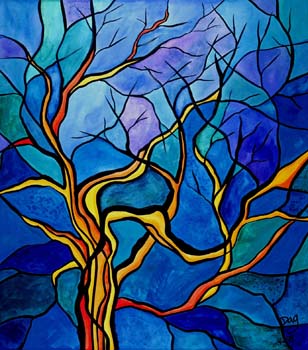 – "Trees" by Dagworks