I am not a woman who likes heat. I get this low tolerance from my mother, who almost literally wilts when the thermometer hits 85. I bear up a bit better, but not much.
It used to be that this intolerance of mine made me really dislike summer. These were the months where I always felt sticky and when there wasn't school. (I have always loved school.) But in the past few years, I've come to love summer – not the heat still – but the flowers, the long days, the gardens. And I love summer evenings.
Last night, my friends Kristy, Barb, Kathy, and I hit the infamous Rita's for what Kristy adamantly calls "water ice," and I call Italian ice (not knowing at all why it is Italian). We sat outside with our little waxed cups and talked while the sky turned this cotton candy pink. It was great. I got to hear all about Kathy's trip to France; we teased Kristy about her online dating life; we heard Barb's laments about having four small children in bed with her at one time. We talked, we sat, we laughed – it was really nice.
There's something about summer nights that seems to bring this out in people. I can remember being a kid and sitting on the dock at my uncle's lake house and just talking with my cousins, my friend, and the cute twin boys that lived next door. I remember college summers where my friend Sarah and I, after a long day of working the painting and grounds crews, would make pancakes for our friends and then sit around and laugh. I remember cook-outs on my parents' deck with people lingering until the air grew cool on our sticky skin.
I think we do the same kind of things in the winter – but then around tables and fireplaces – and those times are precious, too. But here in the humidity of summer, there's something particularly and special about sitting into the cool of the evening to gather around story. We sit in the languid, long days, still and waiting for something – the expectancy of time at our hands. We move less to stay cool, and we rest after the heat of the day. It's glorious, really glorious. I'm beginning to love summer, too.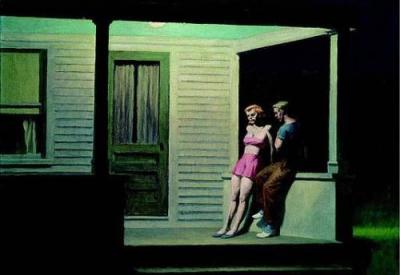 – "Summer Evening" by Edward Hopper