Today, I went back to working on a piece I have been writing about my teenage experiences with men (boys, really). My friend and beloved reader Cate has been giving me great feedback, and something about the comments she sent last night just opened me up to the larger ideas in this essay. Now I'm working on how to structure what was a shorter piece but will now be much larger and more all-encompassing. I'm trying to braid three threads together, while also keeping a throughout line of narrative. I am proving much less masterful at this than Michael Cunningham was in The Hours, but I expect he worked very hard to get those threads braided just perfectly.
But I feel like something is pouring out of me, something I've long held back, too afraid or conditioned to speak about – but something I need to say, and not only in a therapeutic sense (although this piece is certainly having that affect as well) but also in the way that real and true things need to spoken of, need to be witnessed. Here, there is something meaty going on.
For some reason, when I think of this piece, I think of the Bocca della Verita (the Mouth of Truth) in Rome. The legend is that if a liar puts her hand in the mouth of this face her hand will be severed from her body. Somehow, writing well seems like this to me, without perhaps the bloody loss of body parts. When we don't write the full truth, we are severing some part of the story, losing something very vital to what has happened. I never did get to put my hand in the Bocca because the line was too long when I was in Rome, but I feel like I slide my fingers into that mouth every day when I write. It's a good if unnerving feeling.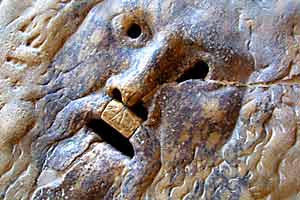 – Bocca della Verita
******
Today, I have another great review for you from Guest Reviewer Oh. Enjoy and share your thoughts if you will.

Down to a Sunless Sea by Mathias B. Freese, 2007, published by Wheatmark
Review by Diana Losciale (aka Oh at www.westcobich.wordpress.com)
Down to a Sunless Sea, the lead story and title in Freese's short story collection, gives the first frisson of what the reader will find between the covers. A young boy walks down the street with his mother in Brighton Beach , caught up in a dance of scratching the back of his right foot with his left foot. He is wearing Buster Brown shoes. (This detail got me; I had Buster Brown shoes, with the sticker on the inside heel and loved looking at it.) So, Freese got me, right off the bat.)
As the child continues haltingly down the sidewalk, caught up in his own dance/walk, his mother remains oblivious to his odd cadence, neither remonstrating nor impatient. This obliviousness, however, will be a theme throughout many of the Freese stories. Characters feel they should feel something, know that they should, but do not, because they can't…quite…manage… it.
But read on, brave reader. These are short stories that ping and sting.
Is it autobiographical in parts or is it the result of having worked for years as a teacher and psychotherapist (is there a difference)? It doesn't matter. There is a universality in the quirkiness, the loneliness and the striving, which resonates throughout the collection. Less likely to make you sing and shout than to make you think and withdraw momentarily, Freese has bared a lot of himself. Take it or leave it.
Because his writing style varies in the 15 different stories, the reader is bound to bump into something that resonates (if not several things that ring true, or at least ring).
One story, Arnold Schwarzenegger's Father … is like pages from a personal journal; Echo reads as an existential memoir about friendship; another, Little Errands, reads as a quick slice of OCD life; Nicholas, one of my faves, reads as a character fragment, a stream-of-consciousness thing. The story of shoeshines (Herbie) is likely less sad than I interpret it. This story radiated a father's emotional abuse of his son, and I wanted to grab the kid and hug him. Freese gives many uncomfortable glimpses, of all sorts, into the many lives of the many people on this earth, stuff we are inured to, may not notice, see or hear as we get caught up in our own rhythms of living this fragile thing called life.
Difficult:
– There's a lot of pain here.
– The writing is uneven at times. Purposely? Perhaps. (Freese is upfront about having no writing training.)
Lovely:
– The beauty of a collection is that it allows the writer to experiment and the reader to skip around.
– This book takes the reader places (non-geo places) besides its (NY) setting.
– It's good to read something that it true, sometimes raw in form, and out there. Published. On the shelf, waiting.
– Story lengths are good. The pieces are sharp, with blunt starts and finishes.
In the age of the short story, this is a good one to have and take down from the shelf from time to time. It's also a good gift for the discerning reader.